"Virtually" the Best Team in the Industry
Our office is virtual because 97% of our employees work from home. It's not for everyone, but it's worked well for us since 2006, and our employees love it. Since we commenced our virtual operations, our revenues have multiplied five times and our team has more than doubled. Join the best insurance professionals in the industry!
Benefits
Group Health and Life Insurance
Defined Benefit Pension Plan
Employer Matched 401K
Work From Home
Internet Reimbursement
Competitive Paid Time Off
Paid Holidays
Educational Reimbursement Opportunites
And Much More....
Fun Facts
97%
MFM Employees that work from home
8%
Average Annual Employee turnover versus industry average of 25%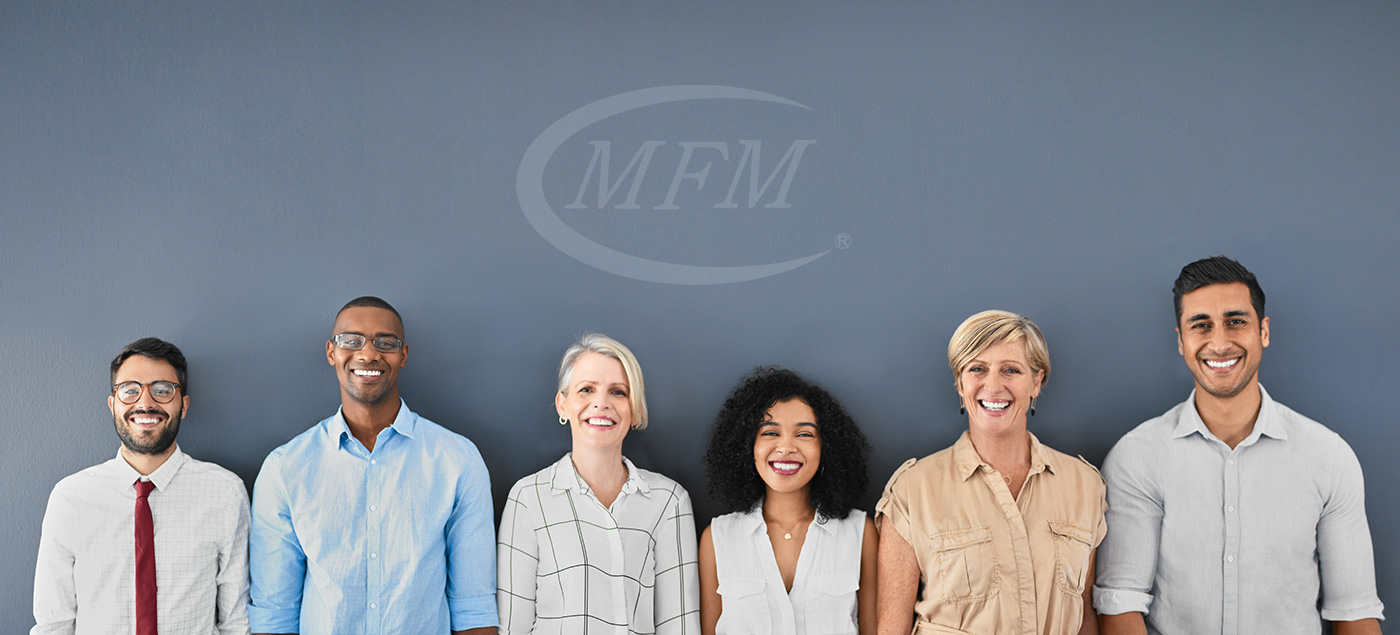 Current Openings
Business Data Analyst - R&D
Midwest Family Mutual Insurance Company (MFM) is a property and casualty carrier serving independent agents in 24 states with commercial and personal lines of business.   We are currently seeking a Business Data Analyst to join our Research and Development team.  This is a full-time remote position with occasional travel for training and company-sponsored events.
Business Data Analysts support strategic management decisions in Underwriting and Marketing by providing detailed analysis of premium and loss data, proposing rate changes, and researching potential rates for new coverages, new lines, new states.  For state filings they provide rate data, written justifications, and public-facing documentation. They're technically adept, implementing rate changes in the system or modifying algorithm logic, querying the database to support management information requests and bureau reporting, and effectively presenting data analysis in Microsoft Excel. Logical thinking and troubleshooting are among their strengths as they support internal users on Help Desk, I.T. and R&D development projects, and management initiatives.
Job duties include the following responsibilities:
Thoroughly understand rating elements that are used to develop and audit policy premium.
Develop knowledge of rating algorithms and functionality of a proprietary virtual rater. Gain the ability to modify algorithms, assemble projects, test, and export rating projects from a test environment to production. 
Understand existing and learn to develop new SQL queries in Oracle database to obtain data for market analysis, financial reporting, and other detailed information as needed for business decision making.
Provide statistical market analysis and rate justification explanations for (a) new products, (b) product expansions into new states, and (c) rate changes for existing products. Analyze company performance and loss ratios against standard industry loss costs and competitive benchmarking.
Support internal users with data requests and rating analysis needs through Help Desk by troubleshooting and communicating effectively, asking pertinent questions, and conveying problem solutions. Document complex issues for I.T. assistance or an outsourced solution.
Design test matrices and facilitate testing for new system solutions, e.g. rating, user-interface configuration, and other technology solutions.
Position Requirements
Formal Education -
Preferred:
BA degree in Business Analytics, Mathematics, Actuarial Science, Computer Science or related analytical field
Beneficial:
CPCU designation
Other Insurance Education or Certification
3 years equivalent work experience
Knowledge & Experience -
Excellent analytic and critical thinking skills.
Excellent organizational skills and attention to detail.
Experience in Oracle or other database, capable of writing basic queries.
Strong math skills; need ability to understand and apply ratios and develop equations.
Strong communication skills, ability to document processes and articulate business needs and solutions.
Strong MS Office skills in Word and Excel.
Insurance background is a plus.
Familiarity with insurance rating and data collection bureaus such as ISO and NCCI is a plus.
Ideal candidate will be:
Self-motivated and self-directed, able to succeed in a work-from-home environment.
Flexible and adaptable in regards to learning and understanding new technologies.
Logical and analytical in problem-solving abilities.
Technically proficient.
Detail-oriented.
Able to conduct research into regulatory issues.
Able to work independently and in a team-oriented, collaborative environment.
Able to effectively prioritize and execute tasks in a high-pressure environment to meet established deadlines.
Customer-service oriented.
An effective and articulate communicator.   
Policy Processing Representative
Midwest Family Mutual is expanding our service team and looking for self-motivated individuals who enjoy a variety of work in a fast paced environment to join our team. Qualified candidates will have a minimum of 2 years' experience in the Property and Casualty insurance industry
About Us:
A.M. Best "A" Rated Property & Casualty Insurance Company
Ward's Top 50 Rated Insurance Carrier 4 years in a row 
Growing Company writing $250M of Premium in 24 States
Telework (Work from home) company since 2006 (High speed cable/DSL Internet and home office space require)
Exceptional Benefits Package
Opportunities for career growth and advancement
Job Functions and Responsibilities include, but not limited to, the following:
Process Personal and Commercial lines endorsements.
Complete underwriting and claims clerical functions as assigned.
Process renewals for Commercial lines accounts.
Order and review property inspections and building cost estimators.
Answer correspondence and inquiries promptly.
Compliance with proper internal controls as necessary to conduct job functions and/or carry out responsibilities and/or administrative activities at the Company.
Use appropriate judgment in upward communication regarding department and/or customer concerns. 
Qualifications and Skills:
2+ years of property/casualty experience required.
Strong understanding and working knowledge of personal and commercial policies and coverages.
Excellent written and verbal communication skills.
Ability to work independently and be self-motivated.
Good Interpersonal and analytical skills.
Strong organizational skills and attention to detail.
Proficient with MS Office products.
Access to High-Speed Internet and dedicated home office space is required.
Must be able to travel to the regional and/or corporate office when requested. Travel is minimal.
High School diploma or GED required; Insurance Education is a plus - i.e. CISR, INS, CPCU, CIC, AU.
Midwest Family Mutual offers a competitive salary, internet reimbursement, an excellent benefits package that includes Medical, Dental, Vision, Health Savings, Flexible Spending, Short Term and Long Term Disability, Life Insurance, including robust retirement plans such as 401k/Roth 401k with company match and a Defined Benefit Pension Plan.