"Virtually" the Best Team in the Industry
Our office is virtual because 97% of our employees work from home. It's not for everyone, but it's worked well for us since 2006, and our employees love it. Since we commenced our virtual operations, our revenues have multiplied five times and our team has more than doubled. Join the best insurance professionals in the industry!
Benefits
Group Health and Life Insurance
Defined Benefit Pension Plan
Employer Matched 401K
Work From Home
Internet Reimbursement
Competitive Paid Time Off
Paid Holidays
Educational Reimbursement Opportunites
And Much More....
Fun Facts
97%
MFM Employees that work from home
8%
Average Annual Employee turnover versus industry average of 25%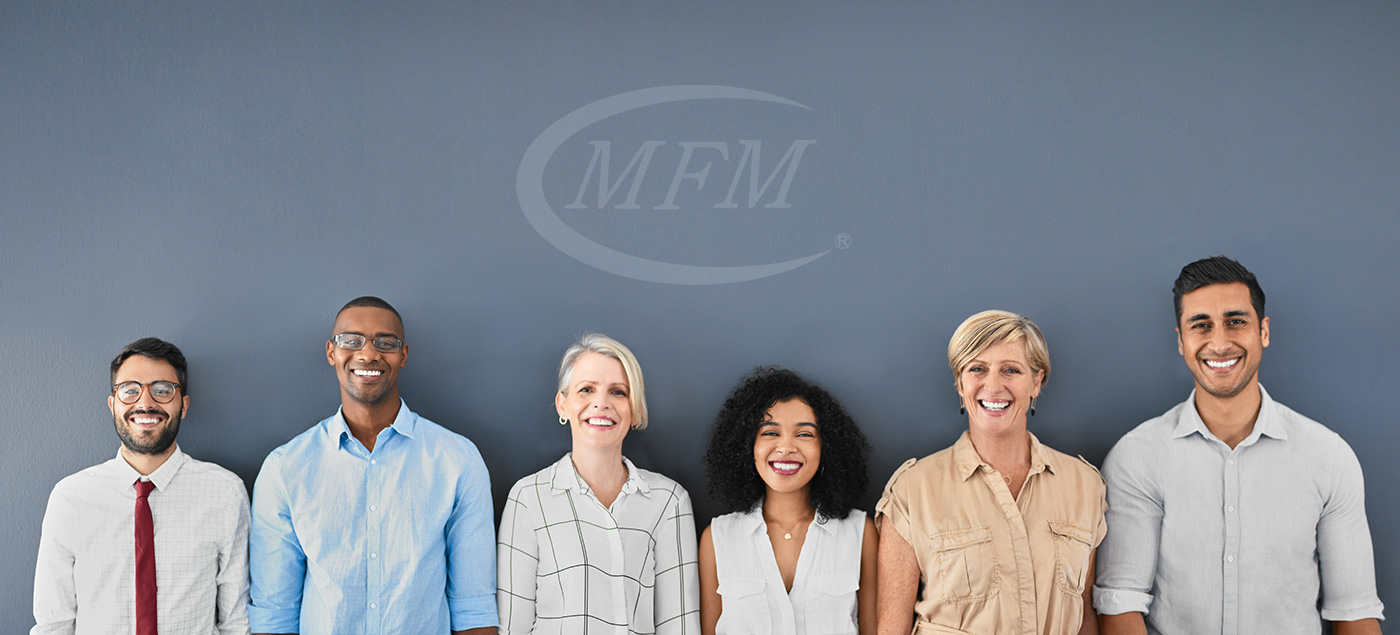 Current Openings
Field Adjuster - Missouri Territory
Midwest Family Mutual Insurance Company is seeking an experienced Field Claims Adjuster. Applicants should have 5 or more years of experience handling Property and Casualty claims in the field.  The position requires extended periods of driving and requires the physical ability to climb ladders, walk roofs, and perform other functions in the field.
The territory is Kansas City, covering Eastern KS and western MO.
The field adjuster's role in the claim is to inspect, investigate, and prepare estimates for covered damage.  Tasks include driving, taking recorded statements, photographing damaged property, preparing diagrams and estimates, identifying and recommending appropriate reserves, negotiating with contractors and body shops to reach agreed price for covered repairs, and completing detailed and well-written reports.  The adjuster will also complete underwriting inspections in the field on new business and renewals. The field adjuster must be an effective communicator and is expected to provide superior customer service in interactions with policyholders and other parties involved in the claim handling process.
Responsibilities:
In-depth understanding of Personal and Commercial insurance policy coverages and applications
Strong customer service and conflict resolution capabilities
Ability to effectively manage and coordinate multiple party involvement to ensure smooth claim process
Strong negotiation skills to effect prompt and fair claim settlements
Investigate claims, including taking recorded statements, photographing and measuring damage, and writing estimates.
Strong knowledge of auto body repair and ability to utilize specialty software to write auto and truck estimates
Strong knowledge of building construction and ability to utilize specialty software to  write estimates on commercial and  residential properties
Ability to read financial statements and understand basic accounting and business income principles
Ability to think "outside the box" and demonstrate problem solving skills
Strong computer skills are necessary to effectively operate in the paperless Claims Management System
Excellent verbal and written communication skills are required. Must be able to operate Microsoft Office, specifically Word, and have at least a rudimentary knowledge of Excel.
Must be able to prepare and present thoughtful and detailed reports.
Must be able to organize a workload that involves heavy communication via written correspondence, email, and telephone.
Must be physically able to drive for long distances when necessary for claim inspections.
Must be physically able to travel for extended periods for CAT duty when necessary
Must be physically able to carry, transport, set up, ascend, and descend ladders
Must be physically able to walk on roofs (with appropriate safety measures)
Continuing education to maintain state-specific licensing requirements
Ability to effectively prioritize and execute tasks in a high-pressure environment
Ability to absorb and adapt to changing technologies in the work environment
Qualifications and Skills:
Preferred Formal Education - College degree; AIC, CPCU or other Insurance-related designation; at least 5 years equivalent work experience in Claims Adjusting
Excellent analytical and critical thinking skills
Excellent communication skills, both verbal and written
MS office experience, specifically Word and Excel.
Strong organizational skills
Ability to work effectively and efficiently in a work-from-home environment.
Strong estimate writing skills
Midwest utilizes Mitchell for auto estimating, and PowerClaim and CoreLogic for property estimating and valuations. Experience with these software applications is a plus.
This is a remote position (work from home/field) and requires someone who can work independently and as part of a remote team environment. A dedicated home office space, wired high speed internet connection, and ability to work well in this type of environment is required.
Midwest Family Mutual offers a competitive salary along with an excellent benefits package that includes Medical, Dental, Vision, Health Savings, Flexible Spending, Short Term and Long Term Disability, Life Insurance, 401(K), Roth 401K, and Pension Plan.
Underwriting Service Representative
Midwest Family Mutual is a property and casualty insurance company, currently writing business in 21 states. We are looking for an energetic, self-motivated individual who enjoys a variety of work in a fast paced environment to join our service team. Qualified candidates will have a minimum of 2 years' experience in the Property and Casualty insurance industry.
This is a work from home position that will require high speed cable/DSL internet access, home office, and minimal travel into the office as requested.
Job Functions and Responsibilities:
Process Personal and Commercial lines endorsements.
Complete underwriting and claims clerical functions as assigned.
Process renewals for Commercial lines accounts.
Order and review property inspections and building cost estimators.
Answer correspondence and inquiries promptly.
Compliance with proper internal controls as necessary to conduct job functions and/or carry out responsibilities and/or administrative activities at the Company.
Use appropriate judgment in upward communication regarding department and/or customer concerns. 
Additional duties and responsibilities as assigned.
Qualifications and Skills:
2+ years of property/casualty experience required.
Strong understanding and working knowledge of personal and commercial policies and coverages.
Excellent written and verbal communication skills.
Ability to work independently and be self-motivated.
Good Interpersonal and analytical skills.
Strong organizational skills and attention to detail.
Proficient with MS Office products.
Access to High-Speed Internet and dedicated home office space is required.
Must be able to travel to the regional and/or corporate office when requested. Travel is minimal.
High School diploma or GED required; Insurance Education is a plus - i.e. CISR, INS, CPCU, CIC, AU.
Midwest Family Mutual offers a competitive salary along with an excellent benefits package that includes Medical, Dental, Vision, Health Savings, Flexible Spending, Short Term and Long Term Disability, Life Insurance, 401(K), Roth 401K, and Pension Plan.